Barristers launch equality, diversity and inclusion directory
7th December 2021
Andrew Powell is one of nine barristers from the inaugural Bar Council Leadership Programme who have launched the Bar's first ever Equality, Diversity and Inclusion Directory.
The Directory provides an up-to-date resource, setting out guidance, clearly and in one place, for use by barristers, Chambers and others, on a wide range of essential topics, to encourage the profession to adopt and embrace improved practices.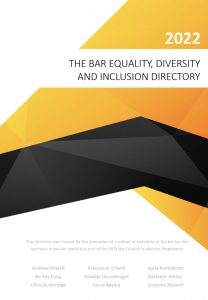 Split into 11 key areas of equality, diversity and inclusion, the chapters provide an overview, set out the applicable minimum legislative and regulatory standards, draw together resources from existing initiatives, highlight other commendable practices beyond the Bar and provide an overview of themes and best practices.
The Directory is available to download from the Bar Council's website here