4PB sponsor Resolution National Conference 2023 and Barbara Mills KC, keynote speaker.
19th April 2023
The biggest annual gathering of family justice professionals.
We are not only the proud sponsors of both the Children and Finance Update at Resolution's 2023 National Conference,  taking place in Brighton on 19th – 20th May 2023, but our very own Barbara Mills KC, will be keynote speaker alongside Sir Andrew McFarlane, President of the Family Division.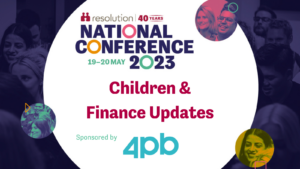 Additionally, Anita Mehta will be delivering, 'Practical Tips for junior lawyers in high conflict children cases' in a workshop, alongside Tammy Knox, Polly Dallyn, and Nicola Logan.
We hope to see you in Brighton, 19th -20th May.
Find out more here. 
#ResConf23